Do you need braces Marylebone? Orthodontist London is the place for you!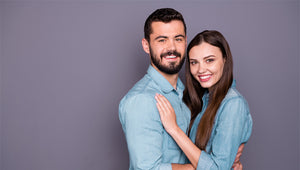 If you have misaligned teeth, you may be thinking that braces Marylebone is the way forward and while you may be right, there are other discreet options that extend beyond those of traditional fixed metal braces. Whatever type of treatment you need to realign your smile, Orthodontist London has a wide range of options to suit your specific needs. From almost invisible aligners, through to fixed braces that are attached to the backs of the teeth instead of the front, the choices are varied and fabulous! Here are some of our popular treatment options.
Invisalign
If you want a change from traditional fixed metal braces, Invisalign could be for you! When it comes to braces Marylebone, Invisalign offers a big step from metal wires and brackets. Invisalign used transparent plastic aligners that are worn over the teeth like a streamlined gum shield and they gently push the teeth into the desired position. The aligners may be removed when you want to eat and drink, so you won't need to clean food off them after mealtimes. You can also take them out when you brush and floss, allowing you to maintain your oral hygiene routine without any added complications. You can also take the aligners out for up to 2 hours a day, when you want to play sports, meet up with friends or go on a date, for example. Invisalign is recommended for mild to moderate alignment issues such as crossbite, under or overbites, crowded or gapped teeth.
Incognito
Incognito lingual bracket system is another option for patients who prefer a discreet option for realigning their teeth. For patients who require fixed brackets and wires, this offers a solution for nobody realising that you are wearing them as the brackets and wires are fixed to the backs of your teeth. A further bonus is the fact that the brackets are made to fit your teeth with extreme precision thanks to the 3D digital CADCAM technology that we use. From this, we can also generate a step-by-stem visual plan of how your teeth will move during your treatment, so you can see what is going to happen to your teeth, before you even get started on your treatment! We use gold alloy for the brackets to ensure that anyone who suffers from nickel allergies is less likely to be affected. Further benefits include the fact that you will be able to continue to play sports, wind instruments and you won't have to worry about your inner lips rubbing on the brackets.
Why Orthodontics London?
Aside from having a wide range of treatment, our dentist, Mary Lo, has over 25 years experience and teaches both here in the UK and internationally. As a consultant Orthodontist at Chelsea and Westminster hospital, Mary Lo's professional and knowledgeable approach will enable you to get the treatment you need. To find out what is the right treatment plan, you just need to book in for an initial consultation to discuss your concerns about your smile and have your mouth and jaw thoroughly examined. We will then be able to discuss the treatment options that would be suitable for your needs and you can ask as many questions as you need to make a decision about the treatment you want to go for. There's never any pressure to commit and you can take as much time as you need to think about which way would suit you best for getting a great smile.