Fixed braces explained by our orthodontist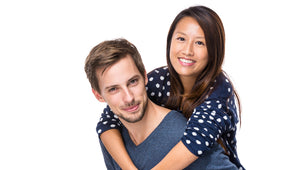 One of the most obvious options when it comes to straightening teeth is to get braces. They can really help even the most severe cases to improve their smile. Here at Orthodontist London, we are proud to offer a few different types of fixed braces to cater to our patients' individual needs. Our team is very well trained and professional when it comes to providing these treatments, so you are sure to be in great hands throughout.
Traditional fixed braces
The most common type of braces our orthodontist Marylebone provides at our practice are traditional fixed braces. You have probably heard of or seen these before, as they have been used to straighten teeth for a very long time. Even some of the most severe cases of misalignment can be helped with the use of traditional fixed braces. It involves us attaching a small bracket on each tooth and connecting them with a wire. We then attach some small elastic bands to create some tension which helps to move your teeth into the desired position.
Clear and ceramic braces
These options are for our patients who want to have a more discreet look whilst straightening their teeth. Clear and ceramic braces will straighten your teeth in the same way traditional braces do, but with a more natural appearance. The ceramic braces use tooth-coloured ceramic materials instead of metal to help the braces blend in with your teeth, and clear braces use clear brackets to help minimise the appearance of them.
Incognito lingual bracket system
The third option that our orthodontist Marylebone can provide is the Incognito lingual bracket system. These braces work in the same way as traditional braces with brackets and a wire, but instead of being attached to the front of your teeth, they will be on the back. Our patients love this treatment because their braces are not visible at all to others, but are still very efficient at straightening their teeth.
Harmony lingual system
The harmony lingual system is a more advanced version of the original lingual bracket system, and you can enjoy faster treatment times and shorter appointments with this treatment. With the harmony lingual system, we use CAD/CAM technology to ensure that your treatment is as accurate to you and your needs as possible, which has proven to be very beneficial for our patients. Smaller and smoother brackets are used with this system, which can make it a lot easier to get used to the braces once they are on.
Removable braces
If you have a very mild case of misalignment, then removable braces could be a good option for you. They have proven to be very successful with helping minor tooth movements, and can also aid to correct crossbites. They are mainly used to help straighten the top set of teeth, and are placed on the roof of the mouth. Our
orthodontist Marylebone
will tighten the wires on the braces to guide your teeth over time into the desired position. The braces are removable, which is really helpful when it comes to cleaning or doing activities such as contact sports. Our patients typically tend to see results within as little as 6-9 months.