Teeth straightening using Invisalign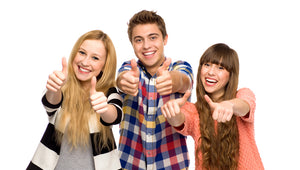 Here at Orthodontist London, we take pride in ensuring that our patients receive the highest quality treatment possible. If you're thinking of getting Invisalign, don't hesitate to contact us for a consultation with our professional dental team, as they will always put your needs first.
The aligners
Invisalign stands out from some other treatments because of the way it straightens teeth. Instead of fixed appliances, we will provide you with plastic aligners. These aligners are easily removable, which means you can simply pop them out whenever you need to. They are custom-made just for your teeth and are thin for optimal comfort. The aligners are clear, which is one of the biggest selling points for this treatment, as you can straighten your teeth, but still maintain a more natural appearance.
The benefits
When getting Invisalign for teeth straightening Marylebone, you will notice many benefits before, during and after the treatment. You will see why Invisalign has become so popular within our practice because of the benefits highlighted below.
Simple process
One of the best things about Invisalign is how simple the process is. From the consultation to when you complete the treatment, you can enjoy not having to have any invasive surgeries or impressions taken. This really helps with encouraging our patients to get Invisalign, especially those who are nervous when coming to the practice.
Removable aligners
As mentioned above, the aligners are fully and easily removable. This means you won't have to do anything differently when it comes to eating, brushing your teeth and cleaning the aligners.
Invisible aligners
Another benefit that has really drawn our patients to Invisalign for teeth straightening Marylebone is the appearance of the aligners when they're in. The clear, plastic material, along with the fact that they are custom-made, means they are barely visible to others. This has been great for our patients who have a professional career or busy social life and don't want to draw any unwanted attention to their teeth
The treatment
When it comes to getting Invisalign with us here at our practice you will be able to enjoy a really simple process. Firstly, you will come in for a consultation appointment with our dentist. This consists of us taking pictures, videos and scans to get a clear image of your teeth and bone structure. These scans will then be sent off to influence the creation of your aligners.
Once your aligners have been created, we will provide you with a few of them to take home, and this is when your teeth straightening Marylebone journey can really begin. You will wear one aligner for around 2 weeks before moving onto a new one. This process is repeated until you have completed the treatment. You will only need to visit us for a check-up appointment every 6-8 weeks, so you can get on with your life whilst straightening your teeth. Our patients typically complete Invisalign within 6-18 months, but this can vary depending on your needs.
Once you have finished the treatment and are enjoying your new smile, we will highly recommend that you wear a retainer. We can provide you with a custom-made one that will help to prevent your teeth from moving back to their original positions.