Why choose Mary Lo in Marylebone?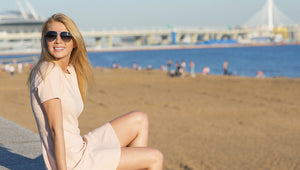 Choosing a dental healthcare professional to administer your orthodontic work can be a difficult decision which is why many patients may be conflicted between a variety of dental surgeries in their local area. However, Mary Lo in Marylebone is considered as an excellent choice. Mary Lo in Marylebone not only offers a professional (and therefore highly skilled) dental approach but she also boasts a warm smile for patients who are experiencing dental anxiety.
Are you feeling nervous before visiting our clinic?
Dental anxiety is extremely common within the field of dentistry and can be experienced by patients of all ages - not just children. These feelings typically stem from negative childhood experiences and can unfortunately be carried into a patient's adult years. If you are feeling nervous prior to your visit then why not chat to Mary Lo in order to voice your queries and concerns, as well as familiarising yourself with the dental environment.
Get in touch with our dental team
If you are considering receiving dental treatment from our team of specialised dental healthcare professionals then you may be wondering how to get in touch. Located on Mary Lo's modern and accessible dental website we not only offer a direct contact telephone number but we also provide a 'contact us' option and an email address.
Mary Lo offers a unique dental approach
Mary Lo offers her patients over twenty-five years' worth of experience. In addition to her highly skilled dental approach, she also has experience within a wide array of dental fields which can be a huge advantage for her patients. Mary Lo not only boasts a wealth of knowledge within the UK however she also teaches individuals internationally which exemplifies her expertise even further.
Pay a visit to Mary Lo
If you are considering receiving dental work from Mary Lo you can choose from a multitude of locations in London (working as both a consultant orthodontist at the Chelsea and Westminster Hospital) as well as owning her own practice on Wimpole Street.
The treatments that Mary Lo provides
If you are considering receiving orthodontic treatments you may be curious as to which treatment will best work for you! Mary Lo not only provides an extensive range of subtle orthodontic treatments (such as Invisalign which are aesthetically pleasing clear aligner trays) but she is also an accredited provider of many traditional orthodontic treatments (such as metal braces to name just one example).
Looking for a discrete orthodontic alternative?
Despite traditional metal braces producing effective dental results for patients who are suffering from the most severe dental cases (such as front protrusion of the teeth which is commonly referred to as an overbite), many patients may now wish for a subtle orthodontic alternative.
Are lingual braces right for you?
Lingual braces are just one example of discreet braces available from
Mary Lo in London
. Lingual braces (the popular brand provider used by Mary Lo is known as 'Incognito') are placed behind the teeth in order to produce effective results whilst remaining invisible.